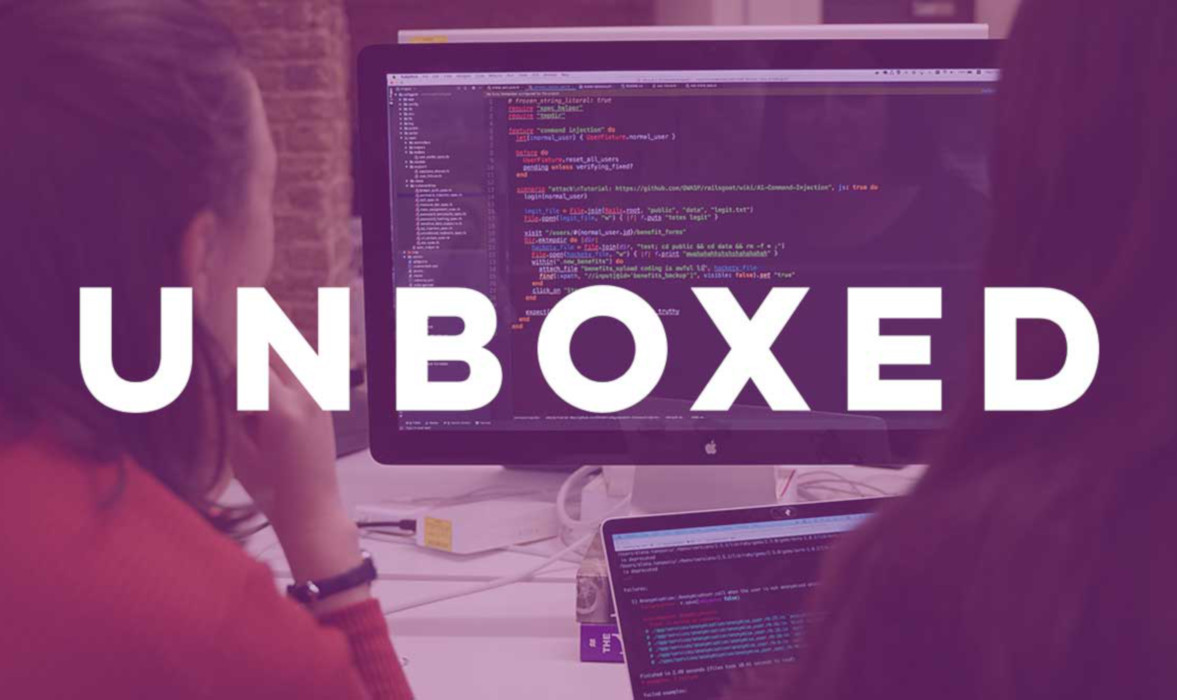 Reflections from Design for Planet
Martyn Evans and Caroline Brown
Dec. 6, 2021
Some thoughts from Caroline Brown and Martyn Evans on the Design for Planet conference, organised by the Design Council.
Caroline
I was really excited about attending the conference because designing for social impact is something that drives me personally and professionally. Our mission here at Unboxed is to 'solve complex problems and have a positive impact on people's lives' so there's a lot of energy and enthusiasm around exploring projects around social design and social innovation.
The conference was curated by Cat Drew, the Chief Design Officer at the Design Council, known for her brilliant work on the Beyond net zero systemic design approach. She organised this timely conference during COP26, when climate change is at the forefront of our minds. She carefully selected over 100 visionary designers in sustainability, circularity and regeneration to share their stories and inspiration.
The first day provided many thought-provoking talks while the second day focussed on collaborative sessions on how to put the theories, models and new ways of thinking into action.
The first talk by Kate Raworth and Indy Johar was profound, and set the tone for the rest of the conference. They had a discussion about how we're in an extraordinary moment of 'planetary consciousness' and we're in a fundamental shift of understanding ourselves and how we relate to the world. Indy talked about how our worldview of looking at the world around us as objects and designing objects from single points of view is fundamentally wrong because everything is interconnected with multiple values, which he described as 'entangled value systems'.
Kate followed on about how we should be designing for the generative, rather than the degenerative (which uses the take, make, use, lose model) using the design traits below:
Purpose - why does something exist. What purpose does it have in the world?
Network - How are we networking. Creating new networks that we need and getting rid of the old.
Governance - How do we govern ourselves? Who has voice in decision making? What are the metrics? Who do we hold ourselves accountable for pursuing that purpose?
Ownership - is my design practice owned by me as a freelancer, company, employees, which shapes finance
Finance - Where is the money coming from? Is it generative finance or the old extractive finance
The designer Leyla Acaroglu explained how 'Everything that exists in the material world comes from things we have done as designers: the services, products and campaigns.' Therefore designing for planet should be a central mission for all designers. As Kate Raworth said: "If you are not designing for planet, what planet are you on?" It's therefore our responsibility as designers to challenge briefs with our clients and persuade them with evidence on the value of improving the environmental impact.
Although we can't do this alone. We can't design for the planet without designing with the community. Sharing, collaborating and co-design are key skills. But as Indy said 'Collaboration is not restricted to a workshop'. We need to work with our neighbourhood locals and learn the wisdom from the indigenous communities. There was a lot of emphasis on designing for the 'everyday' too, to have the biggest impact amongst locals. As Leonie Bell summed it up 'Celebrate the ordinary and the everyday and recognise how transformative it is for us'.
So many amazing rich insights left my head in a spin. But some of the key takeaways for me were to design for people, place and planet, design for multiplicity values, design for the everyday, live well in complexity and focus on 'repurpose, recycle, re-use' rather than 'create'.
Martyn
I guess it's not news to anyone that the change required to reverse this apparent environmental catastrophe is radical but I found this conference really uplifting in its optimism and positivity. There seems to be some debate about who should bear the largest responsibility for this radical change, consumers or organisations, but this was really all about what we as designers could do.
I've heard Sophie Thomas talk about this for many years now but it seems like everyone is finally in agreement that "Waste is a design flaw". She and Ella Doran held court for a really enjoyable hour or so, telling stories about how they had been designing products with (as close as humanly possible) fully recycled and recyclable materials and it became clear how absolutely committed and rigorous you need to be if you want to truly understand the sustainability of your material supply chain.
Joe Macleod's talk on "Endineering" was more focussed on how we as designers must consider the psychological processes at play. In particular he spoke about how we work so hard to create a relationship between the consumer and the product before purchase and during its use but entirely neglect the end of the relationship. Can we do more to understand and create a meaningful relationship when the product is no longer of any use to help prevent it ending up as waste?
A key theme running through the conference was the designer's role as storyteller, how we have to make the need for change meaningful to people in new ways if we want to change behaviours. John Grant and Federico Gaggio from Urge Collective suggested "Framing" as a way to do this as part of their session "Aim, Frame, Game", essentially suggesting that in order to engage people with new thinking you need to connect them with strong cultural ideas (e.g. nature, transparency, "less is more", remaking).
For Kate Raworth and others, it is no longer enough to talk about reducing or preventing further extraction of natural resources to maintain the planet's status quo but more about how we might enter a phase of "regeneration" of those resources according.
Finn Harries (Earthrise Studios), also touched on this but suggests we should present the effect of humans not as somehow apart from nature but as a part of a bigger ecosystem going through an adaptive cycle of collapse and reorganisation and call on indigenous wisdom to understand how we might manage this.
Kees Dorst also promoted a systemic view, suggesting that our task is not so much to fix things through a conventional problem-solving approach, but to shift this complex system towards a better state through high quality interventions. This particularly resonated with me, as I often speak of helping people recognise and navigate complexity and need to refine this story myself.
As an organisation, we are well placed to support the kind of innovation needed, which according to Indy Johar should be based on learning and shared responsibility rather than control, something we strongly believe in at Unboxed. We are however, frequently constrained by the brief we are working to, and need to do more to challenge the scope of work on our projects. I also think we are often too focussed on optimising for today, rather than creating better futures, although I do think this has an important role.
There were many other ideas to consider throughout the two days as we try to do our bit for the planet. Most of the sessions are now available so please have a look at the agenda. Hopefully we can push some of them forward over the coming months.